O'Connor's offers the best brands in Lawn & Garden Equipment

and the areas best Service Team to test and maintain them.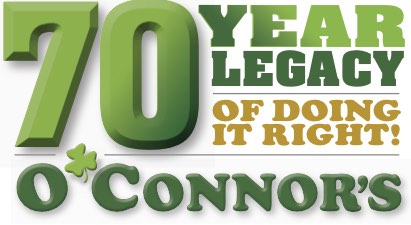 The trusted name in
OK Lawn Care
since 1948.
Thank you for allowing us to serve you.
When you are ready for a lawn equipment company who works hard
to make it right for you every day – every time –
we're here for you.

Warranty coverage pertains to manufacturer defects in materials and workmanship. All warranties commence from the date of purchase to the user. Each manufacturer reserves the right to inspect the machine and parts submitted for warranty repair to determine validity of the claim. Any expenses for transportation (pickup & delivery, freight for parts) to the process the warranty claims are not reimbursable. Damages resulting from shipping, inappropriate usage, accidents, failure to operate or maintain the unit according to instructions in the operator's manual are excluded.
Components subject to wear such as belts, bearings, blades, zippers, wheels, hoses, liners, cables and others not listed but otherwise deemed as such by the manufacturer are not included unless manufacturer defect is proven to cause premature failure. Premature failure is considered around 90 days or less. Normal maintenance and adjustments are the responsibility of the user and not covered by warranty. Repairs and/ or maintenance carried out by non-authorized persons or dealers as well as unauthorized parts or accessories not supplied by the manufacturer immediately forfeit warranty coverage.
To request warranty service, please check your operator's manual for proper procedure and  take the machine to the dealer it was purchased from or to an authorized servicing dealer for the manufacturer.