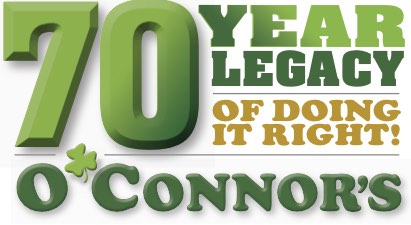 The trusted name in
OK Lawn Care
since 1948.
Thank you for allowing us to serve you.
Service is what makes us O'Connor's
The O'Connor's Award-Winning Service Department is here for all your servicing needs. From selecting the right equipment to keeping it running in tip top shape for years to come, we are here to help.
No need to make an appointment, swing on by with your equipment to get your servicing started.
We also offer pickup and delivery for servicing for our customers. Learn more now about how to schedule pickup, servicing and delivery with just a few simple steps.
To better serve our customers, we only service brands we sell. We're happy to service:
Bear Cat

Billy Goat

Briggs & Stratton

Echo

Ferris

Honda

Kawasaki 

Kohler

Shindaiwa

Simplicity

Snapper

Stihl

Toro
Chris is our service manager and the best person to talk to about servicing equipment. He is also the pro at helping navigate warranty claims.
Every appointment at O'Connor's starts with a basic evaluation. The prices for each of these are listed below. These evaluation fees are applied to your total service bill.
$30 for Handhelds
$40 for Walk Behinds
$50 for Generators
$60 for Riders
How much will servicing cost?
Every piece of equipment is different and needs individual attention to be running good as new again. A common question is, "How much will it cost?" While we can't give you an exact cost, we always call if the cost will be over these numbers to ask how you want to proceed. Take a look at the numbers below:
We call before each charge greater than the following to ask if you would like to authorize the maintenance:
Handhelds $85
Walk Behinds $150
Generators $200
Homeowner Riders $250
Commercial Riders $250
Replace Spark Plug
Service or Replace Air Filter
Inspect Fuel Lines
Flush Pressure & Test Fuel System
Inspect Piston and Cylinder
Adjust Carb
Check Clutch
Lube Shaft
Lube Gear Head
Check Cutter Head
Sharpen Chain
Check Emissions Output
Set RPMS
Test Unit
Generators & Pressure Washers
Service or Replace Air Filter
Adjust & Lube All Cables
Change Oil
Sharpen or Replace Blades
Lube Linkages
Adjust Governor
Replace Spark Plug
Check Electrical Output & Load Test Electrical System
Check Circuit Breaker Operation
Flush/ Stabilize Fuel System
Adjust Carb
Set RPMS
Test Unit
Compression Test
Service or Replace Air Filter
Adjust & Lube All Cables
Change Oil
Lube Linkages
Adjust Governor
Replace Spark Plug
Check Electrical Output & Load Test Electrical System
Check Circuit Breaker
Operation
Flush/ Stabilize Fuel System
Adjust Carb
Set RPMS
Test Unit
Charge & Test Battery
Service or Replace Air Filter
Change Oil Filter
Test Charging System
Test Safety System
Check Tire Pressure
Check Level of Deck
Lube Cables
Grease Deck
Inspect Belts
Adjust Brake
Adjust Drive
Check Fluids
Sharpen or Replace Blades
Adjust PTO
Stabilize Fuel System
Adjust RPMS Under Load
Test Unit
Charge & Test Battery
Service or Replace Air Filter
Change Oil Filter
Test Charging System
Test Safety System
Check Tire Pressure
Check Level of Deck
Lube Cables
Grease Deck
Inspect Belts
Adjust Brake
Adjust Drive
Check Fluids
Sharpen or Replace Blades
Adjust PTO
Flush/ Stabilize Fuel
System
Adjust RPMS Under Load
Lube & Adjust Suspension
Check Pressure on Hydros
Grease Zerks
Test Unit